Mesa AZ Commercial Bed Bug Extermination
Property Managers – We Offer Guaranteed Bed Bug Treatment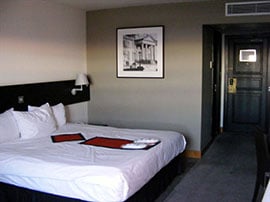 Bed bugs are not a new problem that have plagued humans, but they are on the rise and Mesa is actually ranked #7 on a top 10 list of "most infested bed bug cities".
They are small, flat and hide in the smallest space hidden from our eyes. It doesn't matter how clean you keep your home or business premises once the bed bug gets in, it quickly multiplies. They can often be found in places like apartment complexes, office buildings, hotels/motels, nursing homes, senior living facilities, assisted living facilities, sober living/rehab facilities, and more.
If you get a bed bug infestation, contact Mesa Bed Bug Expert. We are specialists in the elimination and prevention of bed bugs with over 8,000 successful treatments. We are fully licensed and insured and ready to tackle any bed bug infestation.
Call Mesa Bed Bug Expert at 623-202-7924 for immediate service.
About a Commercial Bed Bug Infestation
A bed bug infestation is not a reflection of your habits – bed bugs move silently and invisible from person to person. A commercial bed bug infestation can start with a single bed bug. The bed bug's mission in life is to find a food source and then produce more bed bugs.
The only way to get rid of a bed bug problem is professional extermination. If you suspect you might have a commercial bed bug issue give us a call at 623-202-7924. We only deal with bed bugs and we are experts at detecting them, evaluating the situation, and coming up with viable, cost-effective treatment options for elimination.
Commercial Bed Bug Treatment Options
Your commercial bed bug elimination options will depend on the circumstances and severity of the infestation, as well as the budget available to deal with it.
The best approach is a bed bug heat treatment of the whole structure, followed by spraying with a chemical/pesticide spray. This process kills the bed bug and their eggs in one day and helps prevent bed bugs from returning to the property by re-infestation.
The second approach misses the heat treatment and applies a chemical/pesticide spray to the interior of the property. This approach takes up to thirty days to eliminate all the bed bugs and their eggs.
Our expert staff works with you to produce a tailored cost-effective plan to eliminate the bed bugs from your commercial property quickly and efficiently. As part of the treatment plan, we give you a preparation checklist to ensure the premise is ready for our treatment.
Contact Us for a Bed Bug Treatment Estimate
We are experts in bed bug extermination, and we do it right with the best equipment and the best chemicals. We also guarantee our treatments with up to a 1-year warranty. If you suspect you have a bed bug problem we can help.
Call 623-202-7924 today for a free estimate or to schedule service.
Bed Bug Customer Testimonials
"Anthony was quick to show up and inspect our home. The heat treatment sounded like the best option and it included a chemical treatment. Our bed bugs have been gone for over a month so I feel confident that they did the job I hired them to do. Hire the Phoenix Bed Bug Expert if you have bed bugs. They will not disappoint"

Rating:5 of 5
Sincerely, Hakeem H./blockquote>