Mesa AZ Bed Bug Heat Treatment – 100% Guaranteed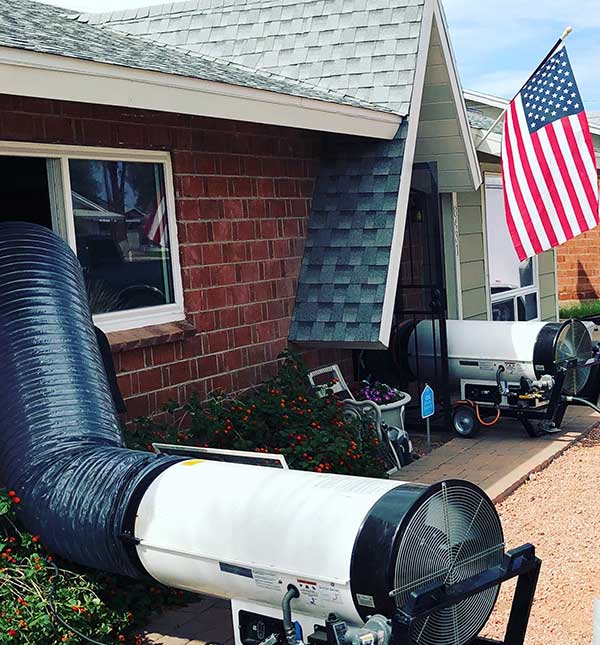 Bed bug heat treatments is the fastest way to kill all bed bugs and eggs in just one day – 100% guaranteed with our 1-year warranty.
By using our specialized heating equipment, we heat the residence to 150 degrees. The heat goes through mattresses, box springs, couches, etc. It penetrates through your furniture, bed frames, nightstands, dressers, etc.
The structure and personal belongings are not damaged at all during this process, but you will finally be able to sleep peacefully knowing that any bed bug or egg that was in your home is now dead.
If you have a severe infestation in just one room, we can provide a heat treatment in just one room while chemically treating the rest of the house.
Heat Kills All Stages of Bed Bug Life (including Eggs)
If you are looking for the fastest way to kill all your bed bugs, then heat treatment is your best option. Heat kills all stages of life in less than 8 hours, including adults, nymphs, and eggs. Pesticide can be used alongside the heat to prevent bed bug re-infestation.
We use specialized heating equipment that is made specifically for bed bug treatments. It is equipped with safety devices to ensure safe operation. Sensors will automatically turn off the equipment if a problem were to occur.
We Guarantee Our Heat Treatments for 1 Year
When you get a heat treatment through Phoenix Bed Bug Expert, we guarantee our service for 1 year. If you see a bed bug during your warranty period, just give us a call and we will come back out to re-treat at no cost to you.
No Need to Get Rid of Your Furniture
Because heat will penetrate all your furniture, there is no need to throw it all out. The furniture will be completely usable and "bed bug free" after our heat treatment.
There are certain things like candles and aerosol cans that you must remove before we provide a heat treatment. You will receive a clear preparation checklist of all the items to remove. We will not be able to provide heat treatment unless the preparation checklist is 100% complete.
Have More Questions? Call the Bed Bug Experts
If you have any questions about our heat treatment, or anything else having to do with bed bugs, call us at 480-351-6377. You can also request a free estimate through our Request Estimate page.
Our Guaranteed Process